vision & mission
Add-wise Conseils... - Vision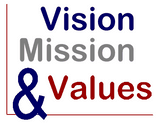 Vision: "see exporting good, services & support, to foreign markets and international Business & trades, as an innate reflex of any emerging company, as a genuine part of their Business DNA."

Mission: "decrease the barriers to export by facilitating access to operationally simple, yet efficient Business expertise for the benefit of many more."

Values:
1. "Commitment to success" ... your success being mine.
2. "Entrust each other" ... I will do what I say and will say what I do.
3. "Eagerness and short time to action" ... we keep focused on what we are good at.